Supporting the Emotional Health of Young People in Southeast DC
DPA CEO Mashea Ashton delivers testimony on youth violence to the DC Council.
Hooking Students on Computer Science
This summer we launched a pilot program with iRobot to teach students the fundamentals of robotics.
My Reflections on Being Named to the Virginia Board of Education
Mashea Ashton: "I am humbled to share that I was sworn in on August 23rd to serve on Virginia's Board of Education."
A VIP Day For Students at a Commanders' Pre-Season Practice
At a simple practice in August, the Washington Commanders made two dozen DPA varsity football teammates feel like they were VIPs.
Washington Post: "Guns killed four students at one D.C. school. Their principal is outraged"
Mashea Ashton sat down to type the words no school principal ever wants to say. In just one school year, it was her fourth time.…
In Memory of Jaylin Osborne
Mashea Ashton: It is with great sadness that I write to inform you of the death of Jaylin Osborne, a member of our 8th grade.
NBC 4: "Washington Commanders Support DC school after tragedy-filled year"
As the country looks for solutions to help curb gun violence and keep kids safe, the Washington Commanders stepped up to help a local school…
Fox 5: "After a year of loss, DC charter school to start football program with Commander's donation"
A check from Washington Commanders is helping to start a HS football program at a school that has suffered great losses this school year.
Diversity in the Tech Sector Starts in K-12 Classrooms
This month, 71 10th graders at Digital Pioneers Academy, a middle and high school I lead in Southeast DC, took the AP Computer Science Principles…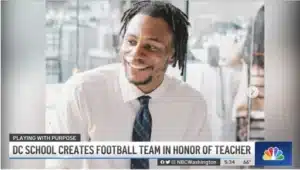 NBC 4: "DC School's First Football Program Dedicated to Teacher Who Died After LAPD Arrest"
A D.C. charter school is on the cusp of starting its first ever football program, thanks to a nonprofit donation dedicated in part to a…
CBS WUSA 9: "Southeast, DC middle school finds hope in tragedy"
Digital Pioneers Academy is launching a football program in memory of two students and one teacher that were killed between October 2022 and January 2023.
DPA Announces $100,000 Grant from Players Coalition to Start Football Program
Digital Pioneers Academy, a public charter school in Southeast DC, announced a $100,000 grant from the Players Coalition to establish the school's first football program.
Gratitude to the Players Coalition for $100,000 Grant
Huge gratitude to the Players Coalition and Super Bowl champion Kyle Arrington for announcing a $100,000 grant to help us launch our first football program…
Launching Our First High School Football Team in Southeast DC
I began my career in education as a teacher in southeast DC and a former college athlete, and yet I never fully appreciated the profound…
My School Doesn't Just Talk about Valuing Staff with Children–It Actually Supports Them
Some teachers don't pay attention to their school's health insurance benefits until they get sick, their retirement package until they are preparing to retire, and,…
NBC Today Show: "Discover Black Heritage: Mashea Ashton"
Today Show hosts Sheinelle Jones and Al Roker recognized Ms. Ashton for founding Digital Pioneers Academy and creating a school where everyone is known, loved,…
Washington Post: Teacher who died after police encounter taught kids words have power
Anderson taught his students that words matter, and now those students have been left hearing some of his last words echoing across the country: 'They're…
How College Athletics Prepares You for Teaching
As a former Division-1 athlete, I appreciate team sports as a training ground for the essential skills needed to actually succeed in the real world:…
In Memory of Keenan Anderson
We are deeply saddened by the death of Mr. Keenan Anderson, a 10th grade English teacher at Digital Pioneers Academy. Keenan's passing occurred while he…
Learning Computer Science by Doing
Katie still recalls the moment at Digital Pioneers Academy when something clicked for her and she was like "Oh my God. I'm coding!" With no…
Computer Science for All Means All
The idea of "computer science for all" sounds daunting at first. In 2020, only 423 high school students in Washington DC took the AP Computer…
Talent is Equally Distributed; Opportunity is Not
Computer science education is the ticket to opportunity in the 21st century. If we want more black billionaires who innovate, create, solve complex problems and…
My Sister and I Failed Kindergarten
"My sister and I failed kindergarten."  That's how I began my keynote address in front of 300 education and tech leaders leaders on September 21…
Student Culture Begins with Adult Culture
If you know anything about me, you know I believe that student culture begins with adult culture.
NBC 4: Academy in DC Developing Next Generation of Digital Innovators
A D.C. school preparing students for high-paying jobs in the computer science field started classes in a new building Tuesday.
How We Have Achieved High Teacher Retention
There is no job more important than teaching, but it's a job that has become increasingly difficult.
Government Technology: Digital Pioneers Academy Prioritizes Digital Equity, Compsci
The Washington, D.C., academy was founded with a focus on computer science education and equitable access to technology, achieving a 50-50 boys-to-girls ratio in computer…